MD Medicus ServiceCenter GmbH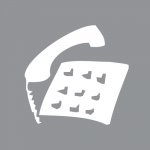 The MD Medicus ServiceCenter takes care of any inquiry of our customers that are not necessarily related to medical attendance. The services include information on tariffs and benefits, the organisation of home health care products. On customer demand we also organize customer satisfaction polls or execute promotions to reclaim policy holders. Also Tele- underwriting/Interviewing are part of the portfolio.
The list of tasks and services of the MD Medicus ServiceCenter is as long as list of products and services of our customers. To send out letters and brochures etc we make use of our highly efficient in-house Fulfillment Centre.